By 2030, India Will Have One Doctor To Every 800 Patients
CHANDIGARH: "By 2030, India will meet the WHO criteria of 1:800 (one doctor to 800 patients) as MBBS and postgraduate seats have been enhanced," said NITI Aayog member, Dr Vinod Paul. He was addressing a gathering at the Postgraduate Institute of Medical Education and Research (PGI) to celebrate the silver jubilee celebrations of the Oral Health Sciences Centre (OHSC) on Wednesday. "By 2024, we will have one doctor per 1,000 patients. We had 1,0.22 lakh doctors in 2017 and can have 14 lakh plus by 2024," added the NITI Aayog member.
Stating that nearly 20,000 MBBS seats were added in one year and there has been a rise of 32% in 2019, the highest ever in a single year, Dr Paul said, "This could be achieved by the board of governors of the medical Council of India. Today, there are 80,257 MBBS seats which were only 60,680 last year."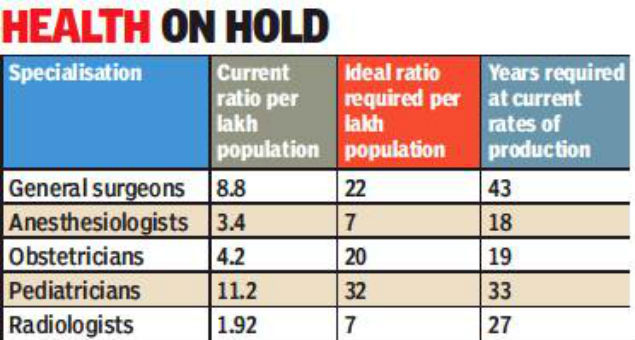 In this context, Dr Paul urged the PGI doctors to create additional postgraduate seats. Later when he spoke, Prof Jagat Ram, director of PGI, said PGI might have MBBS teaching programme in the satellite centres as and when required.
The PGI doctors, however, feel that it is not feasible as the quality will suffer. They say despite an increase in the MBBS seats, the main challenge, however, is in super specialisation. They countered that super specialists are concentrated in the cities, as infrastructure is not available in the rural areas. "Also, the teaching standard will be diluted if students intake is increased in the colleges. The district hospitals, which will be upgraded as medical colleges, do not have experienced teachers. Doctors there will be teaching without any teaching experience," said a PGI faculty. Dr Paul also admitted that we need three times more. "We need 10 lakh more specialists. With present speed of 50,000 seats per annum, it will take more than 20 years for us to get there," he added.-Times Of India